ABOUT WILD-TASTE UK

WILD-TASTE.                                                                                  Rediscovering Ancient knowledge through Food, Drink and Medicinals.

Wild-Taste is the Wild-Food-Drink Hub of Wild-Light. Specialising in the learning and understanding of uses of wild plants through foraging in our natural environments throughout our History. How we can use this knowledge to enhance an understanding of where we are today. To acheive this Wild-Taste divides it's self into various educational and promotional categories, Events ,Walks, Talks, Market and Fair Stalls.
Foraging and the Arts are the main threads that hold the Wild-Taste ethos together. We have been foraging the same as every other living species since our begining and carry on doing so in our every day lives . Always looking for something to complete our daily missions whether it's at a shop for the best price, A market for that object that you may not need but inspires you. It's our Primeval working in many ways for our various needs  in our lives from Fun, Leisure, Education, or Survival.                                
                             Foraging, feeding our existance.                                             Mitch Mclean 2021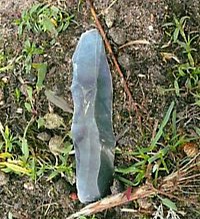 Flint knife found whilst foraging in Thetford Forest droped by Hunter Gatherer circa 4,000 BC
 Our Landscapes through History
In our History there have been massive turning points that have changed our course as the human Race. The begining of so many things we have today which we take for granted have come from our past survival.
Just to name a few of these being the first surving tools made of stone which also the sound each chip of the stone then became origin of music. Also chipping of flint became the sparks for then anther massive change in our History is the taming of fire . Hunter gathering then developed that the food being hunted and foraged, prepared by the stone tools that can also start the fire for the development in cooking ...
Fire Magic, The importance of Fire.
Its estimated that the Human Race first started the taming of fire possibly 1 million years ago. Throughout its role in human evolution it has allways appeared of somewhat magic taking many mysterious guises in its path.
* (Silll under edit)
Lost knowledge of plants
After many years of research into the history of the uses of Plants including Trees and Fungi. Wild-Taste covers lost and ancient knowledge where we can make use of this to inhance our lives today in many respects that brings us closer to nature and our past inheritance in an increasing materialistic world.
Roots, Leaves, Bark, Twigs, Fruits, Nuts, Stems, Saps, Flowers, Seeds all contribute to further understanding  our Ancestrial knowledge of what part we play in our Natural Landscapes which include Woodlands, Heathlands, Feilds, Meadows, Estuary's, Hedgerows,Wastelands and Shorelines.From research into this knowledge we contribute to our understandings of ancient lost wisdom in Foods , Drinks, Medicinals and Practical uses.                                                                 
WILD TASTE EVENTSWild Cocktail demonstrations, Day and Night Woodland Feasts, Foraging Workshops, Festivals, Fairs, Markets, Private Parties , Children's and family workshops, Schools and Home Education.

FORAGING WALKS & TALKS
Over the last Decade there have been many different Wild -Light and Wild -Taste Talks from Woodland  Groups, Home Schooling, Environmental  Groups, OAP Groups,Village Societies, Food Fairs and festivals, Foraging talks, Historic food talks, Allotment Societies, Vegetarian, Vegan and Raw food Groups Etc.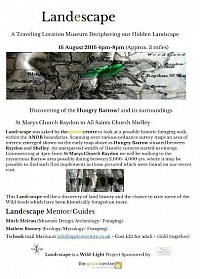 LandEscape flyer for "Discovering the Hungry Barrow"(Wild-Light- Design)
LANDESCAPE (See LandEscape page)
HISTORIC FORAGING WALKS
There are several of these Walks during the year which explores various Historic Sites as well as increasing our Forager, Hunter Gathering knowledge of the specific sites this crosses over with the LandEscape project.
The LandEscape featured on the left was a group of roughly 20 persons Starting from Raydon Church Suffolk in search of a Barrow marked on an early Ordinance Survey map the Hungry  Barrow. This we managed to locate with finds of flint tools identified by our Archeologist on the walk where we ended at the Ancient Church of Shelly with an excellent Oyster Mushroom and Marjoram sandwich cooked on a small stove with Pine Needle and Honey Sauce in the Beautiful Wild flower Churchyard.   
WILD-TASTE OUTLETS
WILD-TASTE STALLS
Displaying Wild Food , Drinks and Foraged Artifacts found on the land during Foraging Events.
This gives an example of what can be found from our Ancestrial past and thier uses from past to present.This includes foods and Drinks that can be made at that particular time of the year.
 FORAGED DESIGN
Shops, ideas for Resturaunts, Kitchens, Kitchen Furniture all made from foraged found materials most of all can be found for free such as Wooden Pallets, double glazing panels, Doors, Tree Stumps or that interesting object left outside a house with a lable saying free.